Welcome to our Autumn/Winter 2021 newsletter. After such a long time apart, we are happy to share some news with you, especially the results of the MGIP Book Awards 2021.
Hello from the MGIP
Dear members and friends, For a very short time we enjoyed the feeling of the 'new normal' and thought that the pandemic could be conquered. What a miscalculation!
Still, it was wonderful to meet our Motovun friends in Frankfurt. Whatever we may face in the coming months, we will cope with it, inspired by the positive and hopeful moments we have shared. Let's soldier on and do our utmost to stay healthy and energetic! Celebrating PEN International: A History As you all know, MGIP has produced a masterpiece – the anniversary book, PEN International: A History. The editors, Jan Martens and Carles Torner, were awarded the first Kiran and Pramod Best Book Award.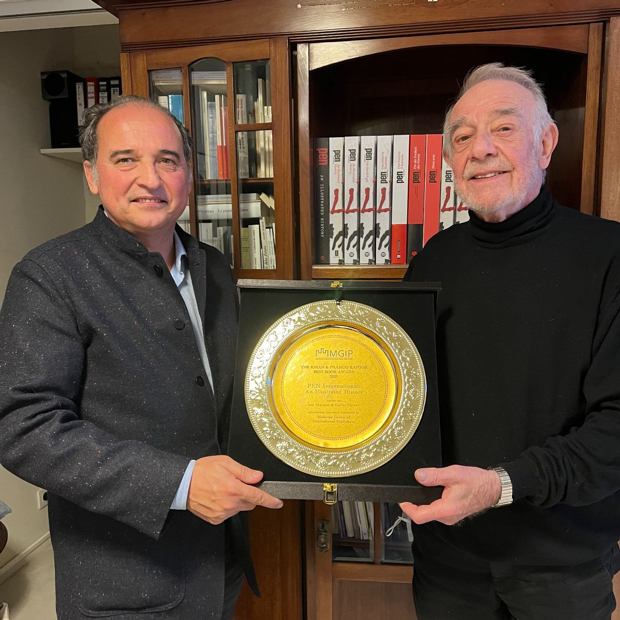 This book is not only special to us, it provides an informative chronicle of one hundred years of PEN International and its never-ending fight for the rights of free speech and publishing and literature without frontiers. There were many more members involved: Elisabeth Sandmann-Verlag (Suhrkamp) published the German version, Michel Moushabeck (Interlink Publishing Group) published the US version, and Sophy Thompson (Thames & Hudson) published the English version. Robyn Gobyn (Tijdsbeeld) and Thierry Juilland (t'ink Studio et al) were also responsible for the production.
The idea for this book started some years ago, at a Motovun dinner together with PEN International president Jennifer Clement, MGIP president Christopher Hudson, Carles Torner, and Jan Martens. And by chance Jan Martens was able to reconnect with the new PEN president (and past MGIP speaker), Burhan Sömnen, a few days ago in Belgium.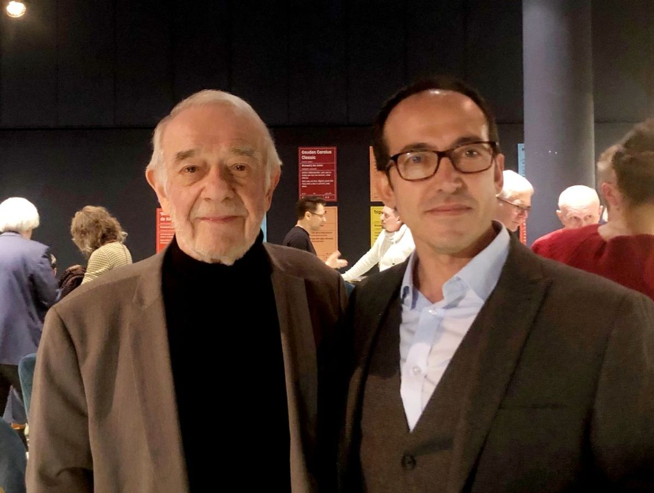 MGIP Book Awards 2021
The PEN history is not the only exciting book to have been published by members. There were many MGIP books published between summer 2020 and summer 2021 that were awarded Gold, Silver and Bronze Diplomas.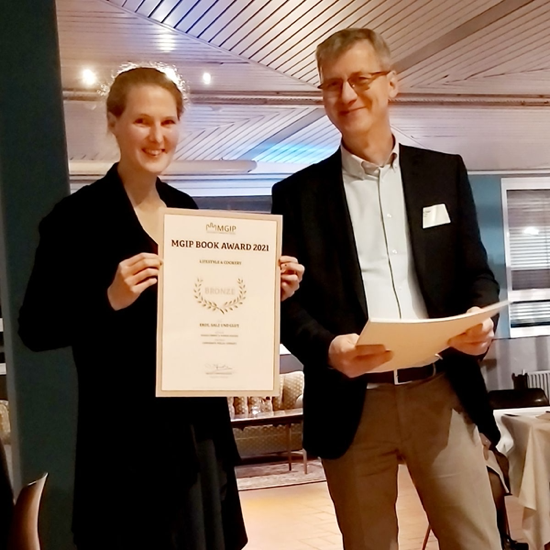 As always, the handing over of the diplomas took place at the Frankfurt Dinner, which was hosted this year by our treasurer Juraj Heger in the absence of Chris Hudson due to the pandemic.
All winners were celebrated with great applause. It was a pity, but understandable, that our American and Indian winners couldn't attend.
MGIP Book Awards Winners 2021
ART, DESIGN, PHOTOGRAPHY
Gold SPRING CANNOT BE CANCELLED: David Hockney Martin Gayford, David Hockney – Thames & Hudson, UK; Silver EMOTIONS Sabine Weiss – Editions de la Martinière, France; Bronze LOVING: A Photographic History of Men in Love Hugh Nini, Neal Treadwell et al – 5 Continents Editions, Italy.
LIFESTYLE, COOKERY
Gold PARWANA: Recipes and Stories from an Afghan Kitchen Durkhanai Ayubi, Alicia Taylor – Interlink Publishing, USA; Silver DARK SIDE OF THE BEAN Kumud Dwivedi – Roli Books, India; Bronze ERDE, SALZ UND GLUT Susanne Probst, Yannic Schon – Coppenrath Verlag, Germany
CHILDREN
Gold ROOTS AND WINGS: How Shahzia Sikander Became an Artist Shahzia Sikander, Amy Novesky – MoMA, USA; Silver MARVELLOUS MAGICIANS Lydia Corry – Thames & Hudson, UK; Bronze ABBIOGEG OG ABBI / I and Grandfather Dánial Hoydal, Annika – Ǿyrabǿ BFL, Faroer Islands; Bronze LE CIEL Hélène Druvert, Juliette Einhorn – Edition de la Martinière, France
HISTORY
Gold PEN INTERNATIONAL: A History – Carles Torner, Jan Martens – MGIP et al, Europe, USA; Silver STRATA: William Smith's Geological Maps Oxford University et al – Thames & Hudson, UK; Bronze ATLAS HISTORIQUE MONDIAL – Edition Les Arènes, France
GENERAL INTEREST & SCIENCES
Gold ANTARCTIC RESOLUTION Giulia Foscari, UNLESS – Lars-Müller-Publishing, Switzerland; Silver NATURE'S PALETTE: A Colour Reference System Patrick Baty – Thames & Hudson, UK; Bronze CARNET D'INSPIRATION TEXTILES Cathérine Legrand – Edition de la Martinière, France; Bronze L.A. GRAFFITI BLACK BOOK David Brafmann – Getty Publications, USA
The Frankfurt Dinner 2021
As already mentioned, the Frankfurt dinner – the first in two years – was a wonderful evening with about 45 members and guests. It was great to meet and talk again after such a long time. And we were especially happy to welcome new guests and share the warm 'Motovun spirit', even with only half of the usual number of attendees.
The energy to work together is unbounded and new plans for the future were made! Coming Up – Save the Dates in 2022
We all look forward to our next dinners in Bologna (27 March 2022) and London (4 April 2022), and especially to our summer meeting (24 to 27 June 2022) in Montenegro. There we can celebrate the 45th anniversary of the Motovun Group and will welcome the president of IPA, Mme Bodour Al Qasimi, as well as Mme Geneviève Waldmann, CEO Veen, Bosch & Keuning Publishers Group, Netherlands et al.
Please save the dates – even if the COVID prognosis is depressing these days. Hope dies last! Stay safe and healthy until we meet again.
With best regards and best wishes!
Barbara & Chris Dates for the Diary 2022: Bologna Dinner – 27 March 2022; London Dinner – 4 April 2022; Summer Meeting, Montenegro – 24–27 June 2022

For more information on events mentioned in this newsletter, remember to email office@motovungroup.org.
Our Facebook page includes many excellent examples of what we, and our members, have been up to during lockdown. We post a range of content regularly, so please find us at: www.facebook.com/motovungroup/.
---